STIPRAM PRESS
Penerbit STIPRAM PRESS didirikan pertama pada Tahun 2022 oleh Sekolah Tinggi Pariwisata Ambarrukmo Yogyakarta. Menerbitkan buku teks untuk mendukung kemajuan pariwisata dan pendidikan di Indonesia.
View Journal | Current Issue | Register
International Journal Of Tourism
International Journal of Tourism Research promotes and enhances research developments in the field of tourism. The journal provides an international platform for debate and dissemination of research findings whilst also facilitating the discussion of new research areas and techniques. IJTR continues to add a vibrant and exciting channel for those interested in tourism and hospitality research developments.
View Journal | Current Issue | Register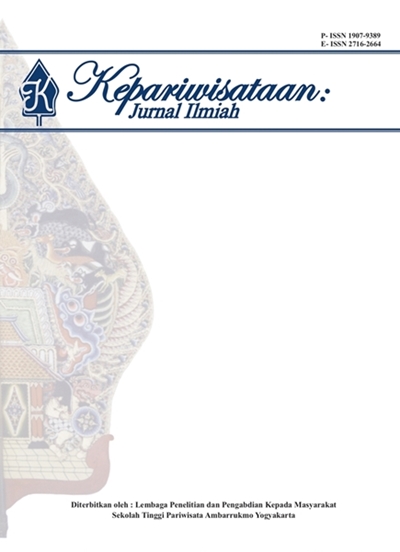 Kepariwisataan: Jurnal Ilmiah
Kepariwisataan adalah jurnal ilmu pariwisata sebagai jurnal interdisipliner bidang Kepariwisataan guna mewadahi berbagai perspektif kajian ilmiah yang berfokus pada kepariwisataan yang diterbitkan secara berkala pada bulan Januari, Mei dan September. Jurnal ini akan memberikan ruang diskusi paradigmatic dalam pengembangan ilmu pariwisata khususnya pada dialog lintas ilmu dalam memberikan kontribusi pada pengembangan kepariwisataan Nasional yang berkelanjutan (sustainable tourism). Pemikiran pemikiran kritis dialektis dalam ranah postmodern akan memberikan pelangi dalam keindahan pariwisata, sangat terbuka untuk berdialog dalam jurnal ini. Kepariwisataan sebagai jurnal ilmu pariwisata diharapkan menjadi public sphere dalam mendesiminasikan karya ilmiah berbagai kajian aspek kepariwisataan terutama bidang Tourism, Hospitality, MICE, Tourism Destination, Communication Tourism, Management Tourism bahkan Digital Tourism.
View Journal | Current Issue | Register
Pringgitan
View Journal | Current Issue | Register